Old Company Stock Research Service was founded by Bob Kerstein (The Old Stock Detective) who is a Certified Public Accountant, a Chartered Global Management Accountant (CGMA), a member of the California Society of Certified Public Accountants, Virginia Society of Certified Public Accountants, and the American Institute of Certified Public Accountants.
Old Stock Certificates may still be valuable even if the stock no longer trades under the name printed on the certificate. For a flat fee of $49.95 per company, our Old Company Research Service will provide you with a brief status profile of companies whose original identities have been lost due to a change in name, merger, acquisition, dissolution, reorganization, bankruptcy or charter cancellation. We do not charge any commissions for monies or unclaimed stocks you recover.
Old Company Research Service / RM Smythe is the world's leading provider of Old Stock and Bond Research Services, Scripophily.com's Old Company Research is the successor to all material published by the Marvyn Scudders Manuals, the Robert D. Fisher Manuals, and Herzog & Co., Inc. obsolete research services, which have been performed continuously since 1880. Our clients include attorneys, CPA's, corporations, institutions, stock brokers, trustees, estates, banks, executors, museums and individual stock and bond certificate holders worldwide.
The resources used in determining your research report includes our experience and large proprietary library of old company stock and bond research performed during the past 135 years which includes information from the Marvyn Scudders Manuals, Robert D. Fisher Manuals, R.M. Smythe and the Herzog & Co., Inc's obsolete research service reports, and other reliable sources. We are the successor to the R.M. Smythe Stock Research Service.
You can find additional information about our Old Company Research Service at OldCompany.com. Please be advised that this process usually takes anywhere from several days up to three weeks once the order is placed. Call us for quantity discounts or the need for expedited service.
We offer this service for stocks and bonds issued from anywhere in the world. If we do not find what happened to the company, you are not charged for our service or time. In fact, you credit card is not charged until we have completed the company research and emailed them to you.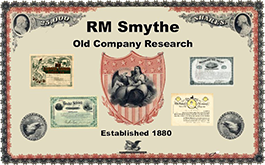 Old Company Stock and Bond Research Service