ANNA SAUNDERS "LEANS IN" AS PRESIDENT OF A CRIPPLE CREEK, CO. MINING COMPANY IN 1912
By Brent Brown
A very rare example of a woman running a mining company, and this was over 100 years ago. The Crystal Peak Gem Company was a Cripple Creek mining company run by Anna M. Saunders as president in 1912.
http://www.westernminingstocks.com/collections/colorado-mining-stocks/products/crystal-peak-gem-co-stock-cripple-creek-co-anna-saunders-president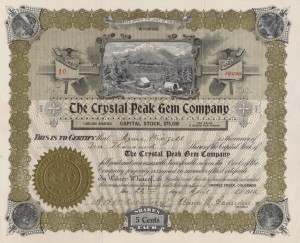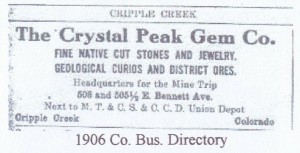 The Crystal Peak Gem Company mined semi-precious stones on Crystal Peak, in Teller County, Colorado. According to the 1917 Biennial Report issued by the Colorado Bureau of Mines, small quantities of semi-precious stones were mined in Colorado each year. These included Amazon-stone, smoky quartz, rock crystal, orthoclase, topaz and phenacite. They were then sold in curio stores in Denver and Colorado Springs.
The Crystal Peak Gem Co. ran mine tours and sold fine native cut stones and jewelry, along with geological curios and district ores at their store at 508 Bennett Avenue in Cripple Creek. Bennett Avenue was the main street in Cripple Creek.
In 1906, Ms. Saunders was listed in the Colorado Business Directory as the proprietor of the Burlington House at 101 W. Masonic. The Burlington House might have been a rooming house. It was located just a block or two from the Red Light District in Cripple Creek.
Anna Saunders signs the Crystal Peak Gem Co. stock certificate as president in 1912.