Let Me Entertain your with an Amalgamated Theatres Stock Certificate
Handsigned by Balaban & Katz
By Fred Fuld III, AntiqueStocks.com,
Author of Let Me Entertain You with Antique Stock Certificates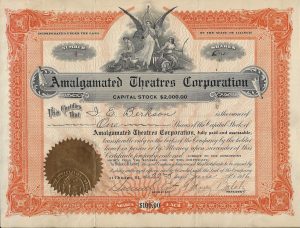 The certificate shown is for Amalgamated Theatres Corporation, dated 1914. It is signed by two of the most important people in the early days of show business. Barney Balaban and Sam Katz. Although their names may not be well known, their contributions to the entertainment industry were substantial.
Balaban built the first movie theater with a balcony back in 1910. It was called the Circle Theatre. Sam Katz married Balaban's sister Ida. The two men created the Balaban and Katz Theatre Chain to build a chain of movie cinemas in the Midwest. In 1917, they built the Central Park Theatre in Chicago.
They also created the first air-conditioned movie theater, with the air conditioning created by blowing an industrial fan over ice in a large bucket.
The Famous Players-Lasky Corporation paid thirteen million dollars for stock in the company in 1926, essentially taking over the company. Sam Katz ended up running the Paramount-Publix chain of theaters in New York City.
Barney Balaban became president of Paramount in 1936 and remained the head of the company until 1964. He signed on many new stars under his leadership including Bob Hope, Alan Ladd, and Veronica Lake. In the 1930's, he produced numerous films including Little Orphan Annie, Gulliver's Travels, and many Hopalong Cassidy films. He also produced several of the Bob Hope-Bing Crosby Road films, including Road to Singapore.
Other popular films under his leadership include:
Holiday Inn
For Whom the Bell Tolls (nominated for Best Picture)
Going My Way (Won Academy Award for Best Picture)
The Lost Weekend (Won Academy Award for Best Picture)
Sunset Boulevard (nominated for 11 Academy Awards)
The Greatest Show on Earth (Won Academy Award for Best Picture)
Roman Holiday (nominated for Best Picture)
White Christmas
The Ten Commandments
Some interesting trivia is that Balaban purchased one of the 14 original copies of the Bill of Rights and donated it to the Library of Congress in 1945.