Houdini Picture Corporation
By Fred Fuld III at AntiqueStocks.com
Author of the book: Let Me Entertain You with Antique Stock Certificates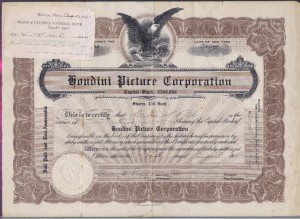 If you ask the average person on the street to name one magician, chances are that the most popular response is Houdini. Harry Houdini, who was born Erik Weisz, (his family later changed it to Ehrich Weiss), was from Budapest but moved to the United States when he was four years old, first to Wisconsin, then to New York City.
He eventually became one of the world's most famous, if not the most famous, magician, escape artist, and illusionist, taking on the name Harry Houdini. However, what many people don't know about Houdini is that he was also a motion picture producer, director, actor, screenwriter, and stuntman. His company was called the Houdini Picture Corporation. (See the image above.)
What is unusual about several of these certificates that have appeared in the collectors' market is that Houdini's signature is very light. This has led many to speculate that Houdini was using disappearing ink.
So what did this company actually do? It produced three silent black and white movies from 1921 to 1923:
The Soul of Bronze
The Man From Beyond
Haldane of the Secret Service
The Soul of Bronze was actually a movie from France that Houdini reformatted and distributed, but did not star in. The Man From Beyond is a movie about a man (played by Houdini) who comes back to life after being frozen for 100 years in the arctic. Haldane (also played by Houdini of course) is about a Secret Service agent who goes after counterfeiters and tries to rescue a woman.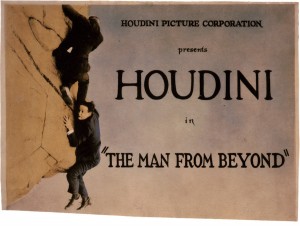 Not many people are aware that although Houdini was the president of the company, his brother Theodore Hardeen actually ran it. One of the investors in the company was Harry Keller, a popular magician in the late 1800's and early 1900's.
Houdini even appeared in a few other movies that he did not produce, including The Grim Game and Terror Island, both distributed by Paramount Pictures.
Houdini's signature appears on one other stock certificate, Martinka & Company, the oldest magic company in the United States. The Society of American Magicians held their meetings in the back of the shop. Houdini was the owner in 1919. He used his formal signature to sign the certificates.