By Fred Fuld III at AntiqueStocks.com
Author of the book: Let Me Entertain You with Antique Stock Certificates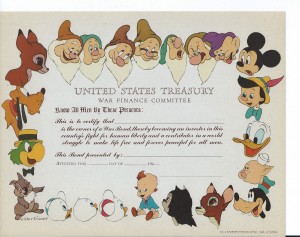 During World War II, the Disney company issued "War Bonds" which, although they were not true bonds themselves, were given to investors who bought U.S. Treasury War Bonds. The certificates feature 22 different Disney characters making up the border of the certificate, including Mickey Mouse, Donald Duck, Goofy, and Pluto. The Disney certificates were given out by banks and war finance committees. These are available in the collectors' market in both issued and unissued form.
There were only two authorized printers: the U.S. Government Printing Office and the Homer H. Boelter Printing Company. (Check the lower right corner for the name of the printer.) There were also two different types of war bonds, one in multi-color and one in black and white, where dot and line patterns were used in place of colors. The black and white variety is extremely rare.
If you collect Disney War Bonds, be careful of color photocopy fakes that are being sold. There are several ways to check if a war bond is genuine or not:
1. For the certificates printed by the Government Printing Office, if you hold the paper up to the light, you will see that the paper has a watermark depicting an eagle, about three inches high by three inches wide. All Disney War Bonds printed by the U. S. Government Printing Office have an eagle water mark. If it says it is printed by the Government Printing Office and it doesn't have an eagle watermark, it is a fake. Certificate printed by the Boelter company do not have an eagle watermark but they do have the watermark of the paper company that manufactured the paper.
2. The certificate has a very light beige color. If it has a yellow background, it is a color photocopy. Even if the paper was left in the sun for a long time, it would not have a yellow background, it would have a darker beige background.
3. Look very closely at the background of Donald Duck's eyes. They are made up of very tiny light blue dots (use a magnifying glass if necessary). If the eyes are a solid dark blue or solid purple, the certificate is a photocopy fake.