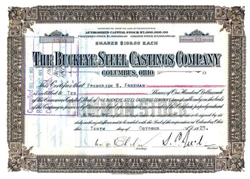 Old Stock and Bond Certificates Make Great Gifts for the Holidays
WASHINGTON DC (PRWEB) NOVEMBER 20, 2017
Scripophily.com ®, the Internet's largest buyer and seller of collectible stock and bond certificates, is is offering free shipping and a Seatrain Lines. stock certificate with all orders plus a free Buckeye Steel Castings Inc stock certificate signed by George Bush's Grandfather with all orders over $200.
Samuel P. Bush ( Samuel Prescott Bush b. 1863. d. 1948) was the President of the Buckeye Steel Castings Co. in Columbus, Ohio, makers of railcar parts from 1907 – 1927. His entire career had been in the railroad business– supplying equipment to the Wall Street-owned railroad systems. Samuel Prescott Bush, was a close adviser to President Hoover. Samuel P. Bush was also the first president of the National Association of Manufacturers.
Samuel Prescott Bush was a member of the Stevens Institute of Technology class of 1884. Bush was on the varsity football and baseball teams, and belonged to the tennis club and served a term as a director of the Stevens Athletic Association, all while earning his bachelor's degree. In the early 1890s, Bush assisted Ohio State football coach Jack Ryder and helped organize an amateur baseball league in Columbus – – he played second base on the Pennsylvania Railroad Columbus Shop team. In 1892 he and two others organized one of Columbus's first tennis clubs. Later, as a charter member of the Scioto Country Club in that city, he chaired the club's golf- course construction committee. Bush, who died in 1948, was a noted industrialist — railroads and steel were his businesses — who also performed extensive civic and community service. Stevens recognized that service in 1947 by awarding him an honorary – degree of doctor of engineering.
Samuel is the Grandfather of President G. W. Bush, the Father of Prescott S. Bush (Prescott Bush, was a senator and the tallest man in the Senate for many years) and the Great Grandfather of President George W. Bush and Governor Jeb Bush. Samuel married Flora Sheldon, daughter of Robert Emmet Sheldon and Mary Elizabeth Butler, on 20 Jun 1894 in Columbus, OH.
Stock certificates are collected and given as gifts because of their historical significance, beauty and artwork, autographs, notoriety, as well as many other factors. The supply of new certificates reaching the collector market has been substantially reduced due to changes in state laws and stock exchanges rules. Many companies are no longer required to issue physical stock and bond certificates, a process called "dematerialization."
Scripophily (scrip-ah-fil-ly) is the name of the hobby of collecting old stock and bond certificates. Certificate values range from a few dollars to more than $500,000 for the most unique and rare items. Tens of thousands of Scripophily buyers worldwide include casual collectors, corporate archives, business executives, museums and serious collectors. Due to the computer age, more and more stock and bonds are issued electronically which means fewer paper certificates are being issued. As a result, demand for paper certificates is increasing while supply is decreasing.
Our company has been featured on CNBC, USA Today, Associated Press, Reuters, Nightline, Today Show, Baltimore Sun, and Washington Post and in many other media publications. Scripophily.com has items on display in museums around the world.
The company also offers the World's #1 old stock research service at OldCompany.com and offers high resolution scans for publications. Scripophily.com has over 16,500 selections on its website.
Scripophily.com /Old Company Research Service, founding member of the Old Stock Exchange, is the successor company to all material published by the Marvyn Scudders Manuals, the Robert D. Fisher Manuals,R.M. Smythe Stock Research Service, and the Herzog & Co., Inc. obsolete research services. These services have been performed continuously for over 137 years since 1880. We are the leading provider of authentic stock certificates, autographs, and old company stock research services.
Scripophily.com and Old Company Research Services was founded by Bob Kerstein (Bob.com). Bob is a CPA and CGMA, and has more than 41 years of senior management experience in the Cellular, Cable TV, Satellite, Internet, Professional Sports and Entertainment Industries. Bob is also the President of the Professional Scripophily Traders Association (PSTA).
For more information on Scripophily.com®, visit https://www.scripophily.com, https://www.oldcompany.com, https://www.scripophily.net, http://www.rambo.com, http://www.bob.com or call 1-703-787-3552